The Hard Charger
Devil Dog Concepts' patented Side Charging Handle System will turn your Standard, Forged, Flat Top, AR-15/ M-16 type rifle into a side charger, quickly and easily with no machining or modifications
The Side Charging Handle System, the HARD CHARGER mounts to a specific slot on the Picatinny rail of your Standard Forged Flat Top Upper Receiver and replaces the existing charging handle, turning your rifle into a Side Charger.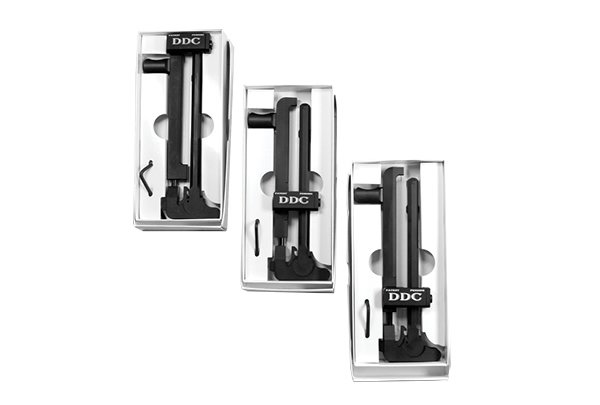 There are three different mounting options for you to choose from depending on your preference, shooting style, or optic set up.
There are also (5) different styles of Pull Handles. The Side Charging Handle System comes standard with the Traditional Pull Handle.
The other options are:
Tactical Pull Handle
Subdued Pull Handle
Competition Pull Handle
Extended Competition Pull Handle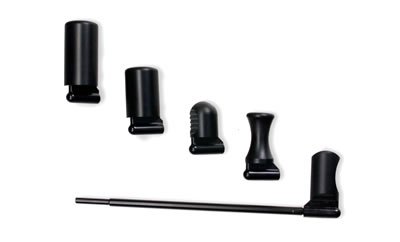 The HARD CHARGER is designed to give you the more ergonomically beneficial option of a side charger allowing you to maintain control of the rifle with your trigger hand and charge the rifle or clear malfunctions with your support hand. The width design lets you clear your optics, rails and mounts without "knuckle-busting." The system is interchangeable from rifle to rifle, field strippable, and compatible with practically all optics and mounts. The parts are interchangeable between each type of Hard Charger system as well.
• The disengagement design removes all the stress on the roll pin and the release lever while the dual support design reduces torque on the charging handle.
• This durable, non-reciprocating system is made from Mil-Spec Anodized 7075 Aluminum, Stainless Steel, and Impact Resistant Polycarbonate. The entire system weighs less than 5 ounces.
• The HARD CHARGER is designed to allow multiple ways to charge your rifle including the side charger, traditional "straight pull" method, and one handed or against static objects, while also essentially being "ambi" or ambidextrous greatly increasing the shooter's bi-lateral and left handed shooting capabilities.
• The HARD CHARGER is specifically designed to be a "self thinking" type of system. By doing this, it removes the necessity of having to use fine motor skills and allows the operator/shooter to rely on "Gross Motor Skills!" This allows you to keep your concentration on your target and task at hand or acquire your target faster.
The HARD CHARGER ADVANTGE:
Be faster and more reliable, no matter the condition, environment, or engagement.